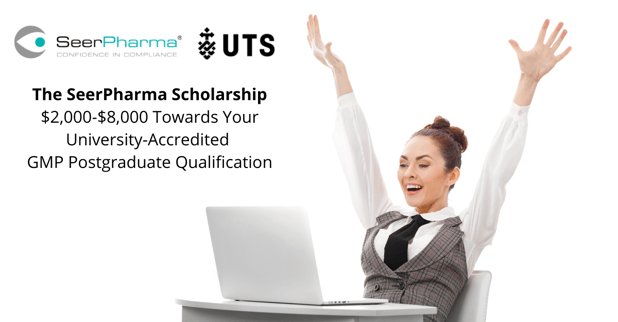 Value
$2,000 - $8,000
The maximum duration is one (1) year.
Conditions of Award
Overview
The SeerPharma Scholarship is to support students with relevant industry experience who enrol in a postgraduate program in Good Manufacturing Practice (GMP) at University of Technology Sydney (UTS).
Who is eligible?
To be eligible for the Scholarship an applicant must meet all of the following criteria:
Commencing one of the following UTS courses:

C04301 Master of Good Manufacturing Practice; or
C06115 Graduate Diploma in Good Manufacturing Practice; or
C11249 Graduate Certificate in Good Manufacturing Practice

Be enrolled in a minimum of two (2) subjects in Autumn and Spring sessions; and
Demonstrate they are working in an industry where GMP principles are applied for at least 1 year by providing a letter of endorsement from their employer; and
Submit a one-page personal statement explaining how this program will advance their career and/or organisation.
All applicants must apply using the UTS online Scholarship application form to be eligible.
All applicants must be available to attend an interview if required.
Selection process
As demonstrated in the Scholarship application and interview:
Knowledge and experience of GMP concepts and of the industry.

Motivation and initiative to seek opportunities to advance their career.
How to apply
Previous recipients
Need more information? Contact...
Other information
More information about Good Manufacturing Practice courses

Explore the Good Manufacturing Practice courses in more detail online;

Submit your application for the next intake

You can apply for the next intake into the Good Manufacturing Practice courses online.