Aseptic processing in compounding pharmacies, of hospitals or private businesses, requires staff to have a unique skillset backed by an extensive understanding of Good Aseptic Practices. There is a clear requirement for pharmacy staff knowledge, competence and adherence to relevant standards in order to provide safe and high-quality aseptic compounding of medicinal products.
Furthermore, the Pharmacy Board of Australia requires pharmacy staff to identify and undertake Continuing Professional Development (CPD) activities that address the identified CPD needs as part of becoming competent in complex compounding.
To support the compounding pharmacy industry, SeerPharma has developed this training course to give participants a comprehensive understanding of aseptic processing principles.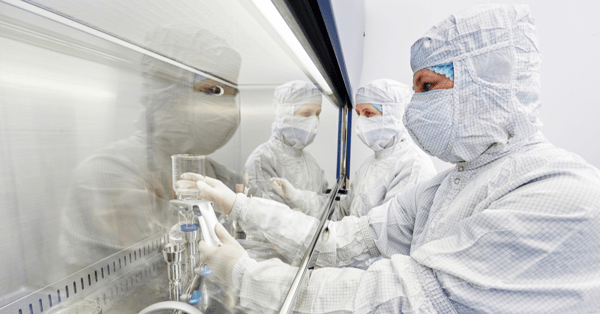 Content
This course is an extensive Good Manufacturing Practices (GMP) training program focusing on Good Aseptic Practices and includes thirteen (13) specific modules based on the PIC/S Guide to GMP (PE 009); the gold standard for pharmaceutical manufacturing.
Introduction to Contamination Control
Microbial Aspects of Pharmaceutical Manufacturing
Cleaning and Sanitation
What is a Pharmaceutical Quality System?
Quality Risk Management
Current Good Manufacturing Principles for Manufacturing
Operating in a Cleanroom
HVAC and Controlled Environments
Environmental Monitoring
Sterility Assurance
Validation of Heat Sterilisers
Filters
Aseptic Processing
Compounding Pharmacy Background
SeerPharma has successfully designed and delivered a GMP training and competency program to support onsite aseptic preparation within South Australian public hospital pharmacy departments.
"The SeerPharma team led by David Spaulding worked in a professional manner to deliver a robust, high quality and contemporary GMP training program. I would most definitely recommend SeerPharma to design a GMP training program to meet the needs of any private or public pharmaceutical manufacturing provider."
Alan O'Kane, Senior Project Pharmacist,
Statewide Manufacturing Services, SA Pharmacy
We recently delivered GMP / Good Aseptic Practices training on-site for pharmacy staff from the Sterile Production Centre at the Princess Alexandra Hospital in Queensland.
Participants
This course is designed for Pharmacy Technicians and Supervisors/Managers of compounding operations, in both hospital and private business. In addition to the value of Continuing Professional Development, participants will benefit from SeerPharma's industry-leading GMP training services and tremendous depth of experience and knowledge in aseptic processes and sterile products.
Format and Course Length
The 3-day course involves a lively mix of case studies / workshops and intensive tutorial sessions. The delivery method is collaborative with a small group and facilitator, which has been shown to enhance learning and critical thinking skills of participants. You will receive copies of all presentation slides and a Certificate.
Contact us and register your interest in a public session or having this course delivered on-site.