This course is for organisations wanting to improve the quality of their products and services and consistently meet their customers' expectations. This course is not just for workplaces who are planning to obtain ISO 9001:2015 certification, but also those preparing to implement a Quality Management System (QMS) fit for their own needs and purposes.
It provides an overview of the ISO 9001:2015 Standard and how the requirements can be met. It will provide insights into key clauses and concepts that underpin an effective QMS. The course will enable you to commence your journey to implementing an effective QMS aligned with or certified to ISO 9001:2015.
Applying ISO 9001 helps ensure that customers get consistent, good-quality products and services, which in turn brings many business benefits and commercial success.
Content
What is a Quality Management System and why should we want one
A quick history of Quality Management Systems
Benefits of quality system certification and of alignment
The Application of Risk Based Thinking in an ISO 9001:2015 QMS
Purpose, structure and requirements of ISO 9001:2015

Leadership
Resource Management
Operation
Performance Evaluation
Improvement

The Biggest QMS Obstacles and How to Avoid Them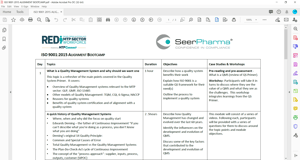 Click here for a full course outline (PDF)
Participants
This course is open to anyone interested in learning more about the application of ISO 9001:2015 requirements and benefits of an ISO 9001 quality management system. You may be a subject matter expert, in research, in a start-up, a supplier or a graduate with interest.
Format and Course Length
Delivery will be a mix of theory and interactive case studies and workshops to accelerate your learning with practical skills. Each delivery will run over 3 days with group participation exercises and periodic breaks to keep you engaged.
What Do I Need?
You just need to attend with a positive attitude and willingness to participate. SeerPharma will provide you with the training materials.
Cost
This training is supported by the REDI initiative, powered by MTPConnect so you only need to pay a small co-contribution of $330 (including GST) to attend this 3-day workshop. Upfront payment will be required to participate. On-site parking at additional cost.
COVID-19
MTPConnect and SeerPharma are committed to delivering this training, despite the COVID-19 restrictions in Australia. Planned classroom sessions may be postponed or moved to Zoom. However, places are limited so register ASAP to secure your seat risk-free. If we set new dates or change delivery mode and you can't/don't wish to attend, you are entitled to a full refund.
Online (Zoom) Session and Registration
Session open to anyone, anywhere in Australia and will commence at 9am and finish by 5pm each day, Melbourne time.
| | |
| --- | --- |
| Dates | Register (credit card) |
| 6-8 March 2023 | Click Here |
Not sure if ISO 9001 training is right for you?
Undertake our FREE online Quality Management System (QMS) Primer to understand the QMS basics first.
Other workshops available under the MTPConnect REDI initiative
Still have questions? Please contact us to discuss your interest and how we can help.
Refer to the Terms and Conditions