Sponsored by the Victorian Medtech Skills and Devices Hub (VMH), this course is for Victorian-based Medical Device, MedTech and HealthTech organisations planning to provide medical devices and related services that consistently meet customer and applicable regulatory requirements of ISO 13485.
Your organisation may be involved in one or more medical device life-cycle stages such as design and development, production, storage and distribution, installation, servicing or associated activities (e.g. technical support). ISO 13485 can also be used by suppliers that provide products and/or services to organisations working in these stages.
Participants will gain knowledge and learn process steps to facilitate the implementation of an effective QMS aligned with or certified to ISO 13485:2016.
Applying ISO 13485 helps ensure that businesses deliver consistent good-quality products and services, ultimately improving customer satisfaction and contributing to commercial success.
Content
Overview of Quality Management Systems, particularly ISO 13485:2016
Benefits of quality system certification and of alignment
Purpose, structure and requirements of ISO 13485:2016

Quality Risk Management for medical devices (ISO 14971)
Management Responsibility
Resource Management
Product realization
Measurement, Analysis and Improvement

Overview of application process for ISO 13485:2016
Development of documentation required for ISO 13485:2016
Preparation for applying for ISO 13485:2016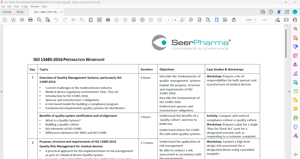 Click here for a full course outline (PDF)
Participants
This course is open to anyone interested in learning more about the application of ISO 13485:2016 requirements and benefits of a quality management system for medical devices. You may be a subject matter expert, researcher, start-up, supplier or a graduate with interest.
Format and Course Length
Delivery will be a mix of theory and interactive case studies and workshops to accelerate your learning with practical skills. Delivery will run over 4 days (Monday, Tuesday, Thursday & Friday) with group participation exercises and periodic breaks to keep you engaged.
A digital credential (badge) will be issued via Credly on e-mail to recognise successful training completion and can be downloaded as a PDF Certificate if desired.
What Do I Need?
You just need to attend with a positive attitude and willingness to participate. SeerPharma will provide you with the training materials and catering (food and beverage) is provided each day.
Cost
Sponsored by the VMH, participants only need to pay a small co-contribution of $440 (including GST) to attend this catered (food and beverages) 4-day workshop.
To support the professional development of the Victorian medtech sector, we are pleased to offer a 33% discount on this co-contribution to attendees currently enrolled in a tertiary education course. Please email contact@vicmedtechhub.com.au for further information.
Upfront payment is required. On-site parking may be at additional cost.
Dates and Venue
Participants to attend all 4 days.
Dates
Venue

13-14,16-17 Nov 2023



Melbourne Connect
Superfloor Meeting Rooms
700 Swanston Street
Carlton VIC 3053
Registration
Limited to 25 participants.
This session is sold out. Sign-up to the waitlist below to support another session!
Successful registrants will also be required to provide basic demographic information to help the sponsor better understand the industry this event is supporting.
If you can't see the booking window to sign-up below, please click here.
Contact us to discuss your interest in a public or private delivery of this course.