SeerPharma is launching a new program targeted towards those of you in Quality Management or Associate and Production Management or Supervisory roles. The 5-day intensive course has been designed and will be delivered by two of our Directors (Tony Rowland and Louise White). The course will focus on Driving Continuous Improvement in a GxP Regulated Environment and aims to help you better understand how your role can improve business objectives.
By attending this training, we will help you achieve your KPIs such as:
Reducing the Cost of Quality
Improving Process Capability
Effectively Managing your CAPA's
Reducing Deviations
Reducing Waste
Reducing Cycle Times and Driving Productivity Efficiencies
You will be working in small groups on authentic problems (based on our experiences in the Pharmaceutical and Medical Device sectors over the last 30 years) to gain knowledge and problem-solving skills.
The course, filled with practical activities, offers you a unique opportunity to consider the way you manage quality in the workplace, and put effective systems in-place to reduce Quality and Compliance risks and avoid future failures.
At the end of the course, you will have the skills and knowledge to set-up and manage a continuous improvement program within your organisation.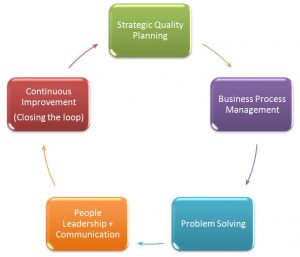 Working alongside peers, you'll develop the 10 Essential Skills you need to drive continuous improvement in your organisation. Each new skill you explore will inform and support every other skill.
Strategise

Analyse the current state of your GxP/Quality System
Integrate a Continuous Improvement Program into the Quality System
Implement robust systems for oversight and re-evaluation

Lead Teams

Get Senior Management involved
Set Specific, Measurable, Assignable, Realistic, Time-bound (SMART) goals and navigate to a successful outcome

Manage Quality Risk

Use knowledge and QRM principles to improve decision-making
Use risk management to optimise resource management

Solve Problems

Learn how to identify and prioritise problems in the workplace
Learn to use a range of problem solving tools to effectively solve problems

Analyse Information

Learn some simple statistical techniques
Use information as an enabler to redesign business processes

Satisfy Customer Needs

Identify external and internal customers and suppliers
Measure satisfaction

Engage Employees in the Process

Empower employees
Understand causes of human error

Calculate the Cost of Quality

Learn how to calculate the costs associated with External and Internal Failures, Inspections and Prevention

Manage Process and Product Quality

Understand variation and identify sources of variation in a process
Establish and maintain a state of control

Communicate

Collaborate and communicate more effectively with colleagues
Present with greater clarity and impact
Call us or click here to e-mail us and register your interest.